Date:
Repeats every day until Sun Oct 14 2018.
Saturday, October 13, 2018 - 09:00
Sunday, October 14, 2018 - 09:00
KOTESOL International Conference
Oct 13-14 2018
Seoul (Sookmyung University)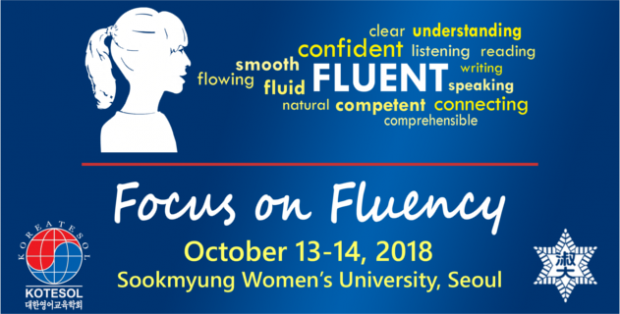 Pre-registration for attendees will run through Sept. 30, 2018
---
Stephen Krashen ㅡ University of Southern California (emeritus), applied linguist.
Scott Thornbury ㅡ ELT author, academic, teacher trainer.
Jill Hadfield ㅡ Unitec Institute of Technology, ELT author, academic, teacher trainer.
Yilin Sun ㅡ Seattle Colleges
Ki Hun Kim ㅡ MegaStudyEdu
Steven Herder ㅡ Kyoto Notre Dame University
Jill Murray ㅡ Macquarie University
Jennifer Book ㅡ IATEFL TTEd SIG
Boyoung Lee / Kyungsook Yeum / Joo-Kyung Park
The Korea TESOL International Conference
The Korea TESOL International Conference is the place to go to meet new people, learn new things and to become re-inspired as a teacher. The annual two-day conference will be held at Sookmyung Women's University on October 13-14, 2018. All English language teachers are invited to attend.
The theme of this year's conference is "Focus on Fluency." The conference chair, Kathleen Kelley, hopes that she and other attendees will gain a better understanding of how to promote English language fluency in the classrooms.
The conference will feature an impressive line-up of invited speakers. With plenary sessions from the Steven Krashen, a world-renowned applied linguist, and author; and Scott Thornbury, English language teaching authority, author of An A to Z of ELT, and the popular blog of the same name. Other notable speakers include Jill Hadfield, well known for her books of classroom activities; and Kim Ki Hun, one of Korea's millionaire English teachers, once featured on CNN.
In addition to the invited sessions, there will also be close to 200 concurrent sessions by passionate teachers and researchers on a wide array of topics related to teaching English in Korea, many coming from other countries to present. There will be strands for teachers of all age groups from young learners through adults. There will even be a "101" strand for new teachers, or experienced teachers who want to get back to the basics.
To take a break from the sessions, sit on the patio and chat with other teachers, or visit the partner displays to check out the latest ELT books and textbooks, and browse for a degree program.
Attendees may register at the venue on conference weekend, but to save time and money, pre-registering is recommended. Pre-registration is open through September 30, and those who pre-register will save an average of 10,000 won. Please see the chart below for pricing, and visit koreatesol.org/ic2018 to pre-register or learn more about the conference and its invited speakers.
Registration fees
Registration Type

Pre-registration

Aug. 1-Sept. 30

Onsite Registration

(2-day pass) Oct. 13

Onsite (Sunday Only)

Oct. 14

Members

50,000 won

60,000 won

30,000 won

Non-members

75,000 won

85,000 won

40,000 won

Groups (5+ people)

65,000 won

Undergraduate Students

25,000 won

35,000 won

15,000 won