Date:
Saturday, April 25, 2020 - 10:30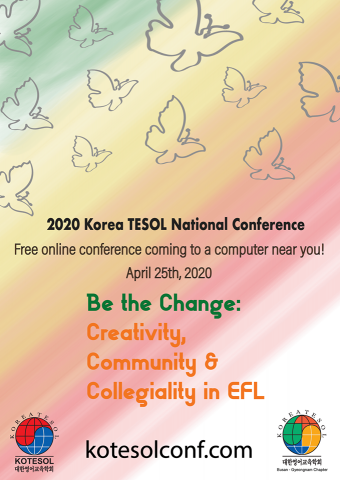 From KotesolConf.com
PDF Program Book

This is probably the most unique conference in the history of Korea TESOL.
"In a show of solidarity and support for educators facing hardships and precarity due to COVID-19, KOTESOL is moving the 2020 National Conference online and making it free for everyone."
Never before has one of the biggest conferences in Korea been free... and never before has it been this easy to attend for every educator in the world.
April 25, 2020 marks a new era for English teachers. Instead of setting the alarm clock to wake up early for a KTX ride to a university somewhere in Korea, teachers will get a nice sleep, eat a slow breakfast and then log on to the conference from the comfort of their own homes.
The landscape is changing. The coronavirus pandemic is thrusting education into the future. Dreams of moving everything online are no longer dreams, but emergent reality. Bricks and mortar are being replaced by webcams and microphones.
It would be easy to think the schedule for an online conference would be diluted, weaker, but the KOTESOL National Conference has attracted established names to deliver interesting talks. Plenary speaker Tomomi Kumai is an intercultural coach with clients all over Korea, Japan and the United States.
Teach North Korean Refugees' co-founders Casey Lartigue Jr. and Eunkoo Lee are returning to deliver talks alongside Yuna Jung in another highly anticipated KOTESOL Gives Back fundraiser.
Yunjeong Hwang, an attorney at Korean Law, is sharing legal knowledge for English teachers dealing with labor disputes, such as unpaid wages and unfair dismissal. The impressive speaker lineup impresses even more now that the conference is all online.
The 2020 Korea TESOL National Conference will go down in history. It will be remembered for its uniqueness, its show of support for educators in difficult times and it may just be remembered as the start of an online conference revolution in the world of English language teaching.
To learn more about the 2020 KOTESOL National Conference and register, see the official website: https://koreatesol.org/nc2020
Featured
Tentative schedule. Times subject to change without notice.