Happy Thanksgiving
Printer-friendly version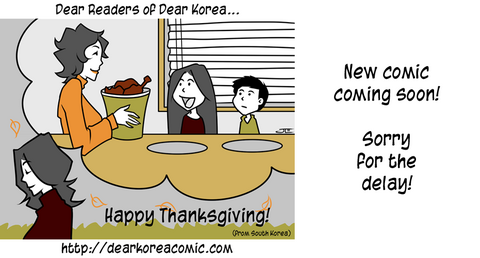 Hey everyone! Sorry for the lack of comic! It's going to be a few days late this week. To make up for it, here's an image I drew for our fine fans at Facebook for Thanksgiving Day. I know it's too late to post this here, but I hope it will do until I get the new comic up.
Here's the explanation that went with the image.
To explain the image a little better, here's a little story. Growing up, I never had much of a traditional Thanksgiving. My little family has usually consisted of just my mother, brother, and myself. Since we didn't have a lot of money, it was hard to justify having one of those epic Thanksgiving meals. Despite that, we did what we could with what we had, and did our best to spend the holiday together. Sometimes we just ate turkey breast sandwiches while drinking cranberry juice, and there were even times when my mother brought home a bucket of fried chicken after a long day at work. Looking back now, despite how anticlimatic our Thanksgivings were, they remain as some of the happiest memories I have.
Living in Korea now, it's easy to complain and get upset during such holidays about being away from home, but I can't help but smile when I think of everything I have to be thankful for. I have a job that comes with a steady paycheck, I finally have the time and energy to chase my dreams and do things I really enjoy (like Dear Korea), and I have the comfort of knowing that no matter how much I miss my friends and family back home, they're only a phone call or email away. Looking back, that's more than I could ever ask for. I just hope everyone else out there has a nice day, whether it's at home with your family, or at work on a cold day with people who have no idea why this day is significant.
Once again, I sincerely apologize for the lateness of the comic. It's been an insanely busy week, and I'm still trying to catch up on sleep and regular work. I'll get back to the usual schedule soon!
---
Jen Lee's Dear Korea
Got any questions, comments, or maybe even some delicious cookies you want to send through the internet? Feel free to contact us at dearkoreacomic at gmail dot com.

You can also leave comments on the comic's Facebook Page!
---