Dear Korea #081 - Goodbye is always the hardest part.
Printer-friendly version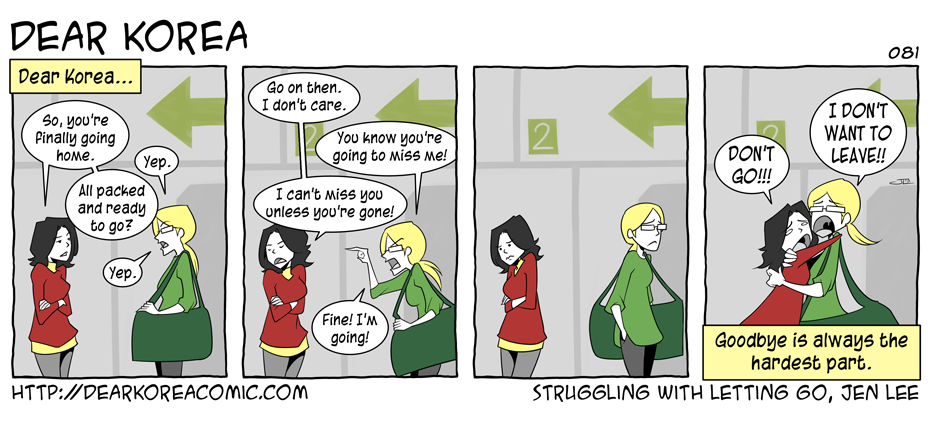 While most mature people may bid farewell in a more caring manner, my friends and I apparently like to be more juvenile about it. Speaking personally, one of the most difficult aspects of living abroad is relationships. You come into a country after having said goodbye to everyone you know back home, you make new friends, stick around for a year (or more), and then find yourself saying goodbye to the very people you started this amazing journey with. It's quite bittersweet really.
Not to be one to complain, but the past few weeks have been rather rough. I'm sure it's been this way for a lot of people. Though I've grown used to being the person who's leaving to go somewhere, I don't think I've quite gotten used to being the one to stay behind. When I first came to Korea over two years ago, I was immediately introduced to a great group of people. Thanks to them, I've had many laughs, made some amazing memories, and even managed to make this very comic after having grown inspired by them. The majority of these people are gone now, and I'm left feeling just as vulnerable as I did when I first got here. The difference now is that I don't seem to have the same willingness to make new friends with new people that I did back then. Seriously, how do people do this every year?
To Stephanie, Kat, and to so many other amazing people out there…you suck for leaving. Despite that, you will be missed, and one can only hope that our paths will cross again in this mysterious world that originally brought us together. Until then, stay awesome, and don't ever stop moving forward ♥
---
Jen Lee's Dear Korea
Got any questions, comments, or maybe even some delicious cookies you want to send through the internet? Feel free to contact us at dearkoreacomic at gmail dot com.

You can also leave comments on the comic's Facebook Page!
---